Hello all!
There is still plenty of time to sign up for Stash Bee 2015!
Click here to sign up!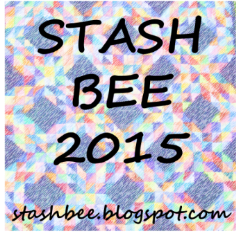 One of the things we'll be doing throughout 2015 is having a monthly link up party on the 25th of each month for participants to share what they are working on other than their bee blocks. This will be a great way for us to get to know each other better and be inspired!
I am going to post the first Stash Bee link up post next Saturday, October 25th for all current participants and anyone who has signed up for 2015 to link up their blog, Flickr, or Instagram.
On November 15th, here on the Stash Bee blog, all of the Hive Mamas for 2015 will be announced and I'll have each of them post a short introduction of themselves.
Please remember that if you signed up, you MUST have a Gmail email or Google account to be able to post on the Stash Bee blog via Blogger. I will be contacting everyone to make sure that they have a Google account in the coming days and weeks to get that information.
Don't forget to share the 2015 Stash Bee button on your blogs and share the sign up link as well!